dimmable

Adjust your Heatframe to your surroundings and mood using the app or remote control.

---

heats

Soothing warmth with our full carbon comfort heating. Provides individual heat or heats entire rooms fully automatically.

---

PrimeArtPrint

Choose from curated artist artwork or let us print your personal memories.

---
The best of both worlds!
---
The 3D-eHEAT HEATFRAME is a high-quality illuminated stretch frame with an exchangeable textile print banner. Hidden behind the fabric banner is not only state-of-the-art dimmable LED technology, but also an innovative full-carbon comfort heater with very low operating costs - invisible and maintenance-free.
Within a few minutes, the HEATFRAME provides pleasant warmth. Depending on the size of the frame, it can be used to heat not only individual workplaces in a targeted and efficient manner, but also entire rooms quickly and in an energy-saving manner. Sustainable, cost-efficient and energy-saving.
With a frame depth of 120 mm, it can be optimally illuminated up to a height of 3.0 metres. In addition to the basic colours Alu-Basic, white and black, you can order your frame in all RAL colours. **As a special highlight, the frame is also available in various wood versions.
What makes the HEATFRAME so special?
Modular system

Change the motifs or subjects in the blink of an eye or expand your heat frame with trendy add-ons.

Quick assembly

The frame is delivered pre-assembled in a practical cardboard box and can be assembled completely without tools in no time at all.

Acoustics

Depending on the requirements and application, we install selected acoustic materials. These minimise reverberation and improve the room acoustics.
or...
True colour prints

We attach great importance to the highest quality materials and use selected textiles with a pleasant velvety feel. The printing technique sublimation allows for a wrinkle-free storage of the prints and subjects.

Flame retardant

Safety first - that's why all our textiles are flame retardant (B1) and therefore ideally suited for use in public facilities and hospitals.

PrimeArtPrints

This is what we call our printed fabrics. The very high resolution enables pin sharp motifs with an enormous level of detail. Especially our artists and photographers trust in our HiRes print quality.
or...
Pretty smart!

Using the latest smart home technology, our HEATFRAMES are ready for Alexa, Google, ZigBee and many other systems and platforms.

Sustainable

We develop and produce our HEATFRAMES in Austria. We pay particular attention to short delivery routes, recycled materials and the careful use of resources.

The all-rounder

Whether for living rooms, offices, coworking spaces, showrooms, practices, law firms, public spaces, hotels, foyers, conference rooms and much more. - the HEATFRAME can be adapted and expanded to meet your individual needs.
One system - many application possibilities
Mural

Is an ordinary picture on the wall too boring for you? Then you will love the HEATFRAME as a wall picture. The perfectly designed LED edge lighting really sets the scene for your print motif. Choose from standard sizes such as 200 x 100 cm or 200 x 133 cm. Special sizes can be made to the millimetre.

---

Ceiling canopy

With the 3D-eHEAT HEATFRAME as a ceiling canopy, you can create a perfect atmosphere in no time at all. Depending on the version, you can order the illuminated frame with plain, white or printed fabric. The 3D-eHEAT panel heating is also elegantly hidden behind the fabric banner. Depending on the size of the room and the required heating, the installed panel heating can be optimally designed to meet your needs.

---

Room divider

You have never erected walls so quickly! The lateral guide grooves in our profiles can be used to fix and fasten your new wall easily and uncomplicatedly. Standard dimensions for the room dividers are 200 x 200 cm. We are also happy to manufacture customised dimensions for you.

---

Display

Welcome your customers with an illuminated display. Is it always a bit too cold in your foyer or reception area? Then the illuminated display optionally provides you with a pleasant radiant heat of up to 1,000 watts of heating power. Coupled with placed room sensors, the room temperature is controlled fully automatically.

---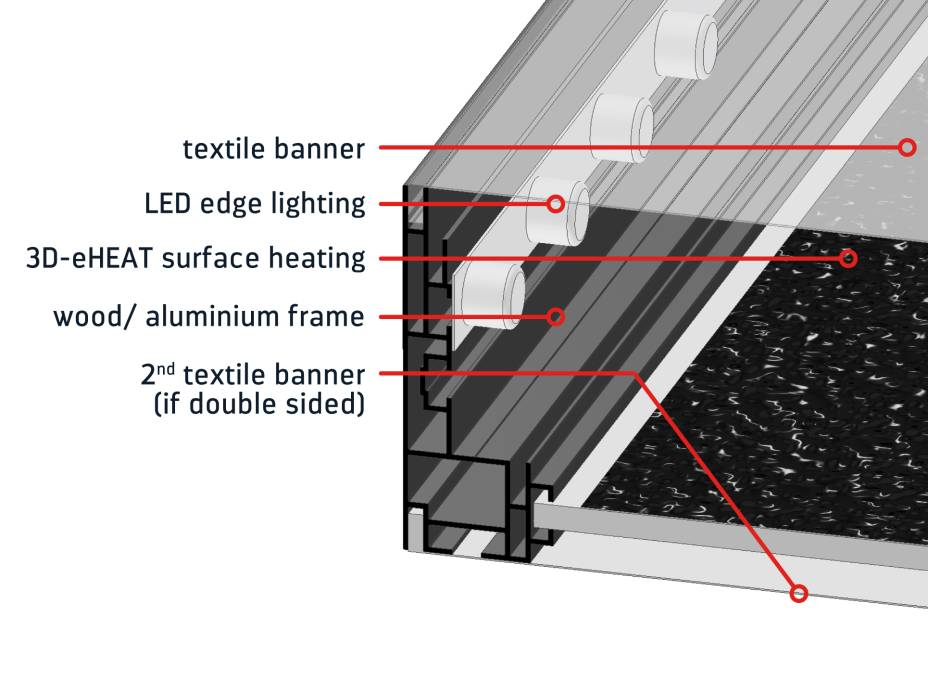 Sizes, colours
---
Standard sizes
1:1 / 1,100 x 1,100 mm (M)
1:1 / 1,500 x 1,500 mm (L)
3:2 / 1,500 x 1,000 mm (M)
3:2 / 2,000 x 1,333 mm (L)
2:1 / 1,500 x 750 mm (M)
2:1 / 2,000 x 1,000 mm (M)
Further sizes and individual formats on request.
Colours & Material
Natural aluminium
Alu-white (lacquered or powder-coated)
Alu-black (lacquered or powder-coated)
RAL colour of choice (lacquered or powder-coated)
Wood-oak (lacquered)
Beech (lacquered or stained)
Your way to us - Austria
---
Your way to us - Germany
---
Frequently asked questions
---
No. Our HEATFRAME is a combination of a full carbon surface heater with a high-quality illuminated interchangeable frame. The basis of the heating is long-wave infrared radiation - similar to the sun's rays.

Yes, but in order to heat the living room efficiently and optimally, it is necessary to match the room size to the size of the HEATFRAMES or the heating output. The standard size of 2,000 x 1,000 mm provides sufficient heat output to heat a living room of up to 15 square metres, for example.

Yes. Ideally, take a HEATFRAME with slightly less heat output. To be able to test the heat, ideally visit us in one of our showrooms. We can also produce a size with the right heat output for you.

Basically, the operation is favourable due to the large-area full carbon comfort heating. Depending on the use and operation, it ultimately depends on how many hours a day you want to activate your HEATFRAME.

We supply different types of construction. The outputs are 110, 200 or 400 watts/m².

Two different powers are available for this size. 800 watts and 400 watts.

The standard version of our HEATFRAMES is already equipped with a Smart Home control. All of our HEATFRAMES can be conveniently operated using an app on your mobile phone. We are also happy to integrate the frames into your existing home network. Individual solutions are also no problem.
Download area
---